Fun Activities for Seniors with Low Vision or Who Are Visually Impaired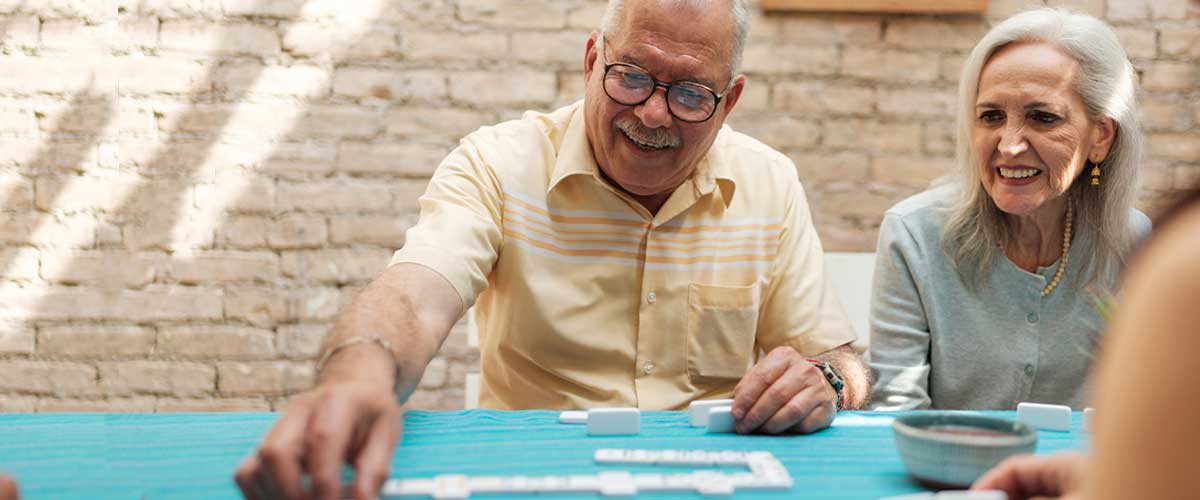 Low Vision Activities Come into View
A low vision diagnosis doesn't have to hurt a senior's social life. There are some great activities that can help them stay active and engaged.Low vision is defined as any eye condition that can't be corrected only with standard eyeglasses, contact lenses, surgery or prescription drugs. Low vision affects a person's direct and peripheral vision, their ability to distinguish things with little color variance (like facial features), depth perception, and their ability to focus on objects and understand what they are.In older adults, low vision can be caused by macular degeneration, glaucoma, diabetic retinopathy, cataracts, calcification and embolus, among others. Seniors benefit by catching these conditions early. They're able to find therapists and learn techniques to maintain as much independence as possible.
Why Design Activities for Visually Impaired Seniors?
Visually impaired seniors can experience a lack of confidence that comes with diminished mobility. They are at risk of social isolation and depression. Many seniors with low vision mourn the disruption to their previous routines. If they're used to reading the newspaper or going through the mail, they can experience daily frustrations as these practices become more difficult.Most older adults benefit from designing new routines that create opportunities to socialize, include regular outings and integrate what's important to them.
7 Activities for Low-Vision Seniors
1. Music — If the senior played music before their vision loss, their muscle memory can help them continue playing. Some musicians learn music through memorization or use sheet music through specialized displays that offer large print and hands-free page turning, like MusicReader, eStand and Lime Lighter. The senior can play for their own enjoyment or join a band and play with friends. A choir is another great socializing opportunity for the musically inclined and doesn't require an instrument.
2. Trivia Games — Seniors can join friends for a weekly trivia game at a bar or restaurant. Look for companies like Geeks Who Drink at local spots or host your own private trivia night with friends.
3. Regular Workouts — A professional trainer can help adults with low vision make the most of the gym equipment available and add variety to their fitness routine. If a trainer is unavailable, seniors can also use rowing machines or stationary bikes with relatively little trouble. Keeping up with fitness offers mental and emotional as well as physical benefits.
4. Board Games — Games are great to play with friends or grandkids, and companies offer specialty editions of games for visually impaired players. You can find large-print and high-contrast versions of bingo sets, playing cards, Scrabble, Rummikub, dominoes, checkers and Monopoly. A weekly or biweekly game could add some fun to their schedule.
5. Movie or Show — More and more performance venues offer audio described performances that outline the important stage direction for people with vision impairment. Many movie theater chains — including AMC, Regal and Cinemark — offer audio description devices. Seniors can also use apps like Actiview for movies in the theater or at home.Nationally touring theater shows also often offer audio description. They provide headphones, and audience members with low vision can listen to the actors' performances as well as the accompanying stage descriptions. Call ahead to the venue to see if they offer assistive devices or even special previews for visually impaired theatergoers.
6. Pampering Activities — People with low vision can sometimes feel self-conscious about their appearance because they can't see it clearly. In a 2016 study published in "Activities, Adaptation & Aging," Ava Magnus and Kjersti Vik discovered that making effort with their appearance — trips to the hairdresser, manicures, makeup appointments — greatly impacted day-to-day confidence for women with vision impairment. Other study subjects reported that they found aromatherapy, perfumes and colognes helpful to their sense of self-assurance.Older adults may feel more excited about social or public events when they know they look nice. Regular beauty appointments can become very important confidence-building activities for visually impaired seniors.
7. Audiobooks and Podcasts — People who have always been well read and well informed will likely want to continue those pursuits after a low vision diagnosis. There are countless podcasts available for iPhone and Android — a senior can find interesting discussions about an ever-expanding array of topics.Audiobooks are a helpful medium to keep up with new releases or discover the classics. An Audible subscription is only $15 per month, or you can borrow books for free with a valid library card. Apps like Hoopla and Libby let you download books right to your device at no cost.
Freedom Village of Bradenton offers low vision screenings for short-term and long-term residents as well as expert occupational therapists to help seniors avoid accidents, develop new skills, and adapt common tasks or their surrounding environment to help establish maximum independence.If you'd like to know more about any therapies we offer, let us know on our contact form. We'd be happy to hear from you.