How to Decorate a One-Bedroom Apartment to Make It Feel Like Home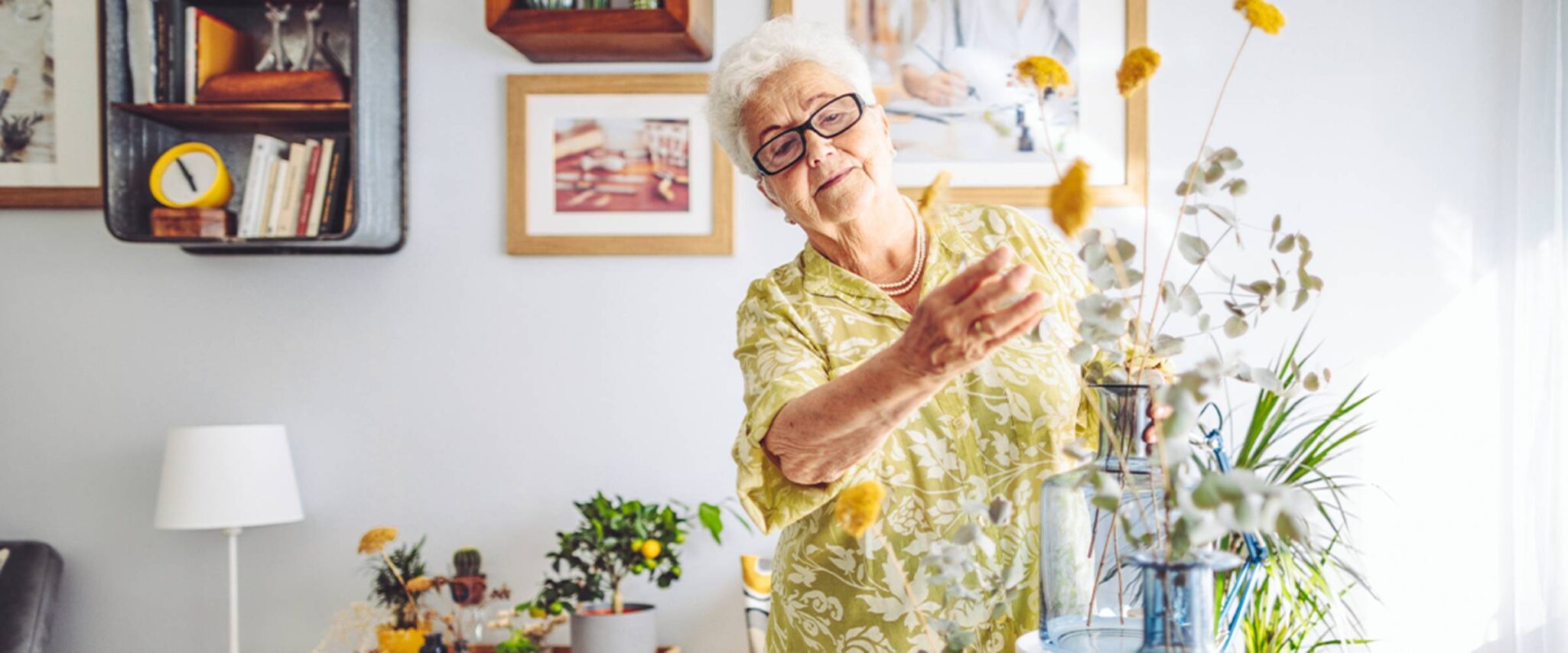 Inspired ideas to decorate your one-bedroom apartment.
Getting pleasure and comfort from every square inch is important in any home, but especially in a one-bedroom senior apartment. Curious about how to decorate your one-bedroom apartment? You've come to the right place. These decorating ideas draw from the principles of interior design to help your senior apartment become a stylish, functional, distinctive retreat that reflects your personality and serves as your home within the larger community. Ready for some one-bedroom apartment decorating ideas that really work? Let's get started. 
Fewer pieces for greater impact
If you plan on moving from a larger home to a one-bedroom apartment, you have to get comfortable with the idea of downsizing. But beyond that, you might look for small-scale versions of your favorite pieces, like the loveseat version of a beautiful sofa, or a side table version of a pretty coffee table. Take measurements and do a bit of research to find furnishings that fit as close to the amount of space you have available. In general, lower-profile furniture makes ceilings feel higher. Try a bed with a full set of drawers underneath. Even something as easy as a wall-mounted shelf in lieu of a side table can take advantage of unused space. Just make every piece count. 
Rethink and repurpose
You'll most certainly have favorite pieces of furniture you'd prefer not to part with. For these, try to put them to use in a different way. A beloved china cabinet may now store dry goods to create a pantry in the open. A beautiful antique chest may now do double duty as both a storage place for linens and a small table or base for books and a lamp. An attractive walnut tea tray will turn that lovely ottoman into a small-footprint coffee table that can also be used as additional seating. 
Define space within space
The way you arrange your living zones as well as the apartment decorating ideas you employ will help define the purpose of each space. A curtain or open shelving can create separation between sleeping and sitting areas. Rugs help to create zones and define each nook, instead of giving the impression of one blurred, multifunctional room. You can chisel out separate spots for working, reading and entertaining by enhancing the sense of separation with rugs, a wallpaper feature, or a lightweight screen as a room divider. 
Infuse small spaces with big style
Your overall goal is to avoid visual clutter. That applies to what's on your walls as well. Too many frames can make the walls feel like they're closing in on you. Focus on just one piece of colorful artwork instead — such as a large-scale print, a vibrant photograph, an abstract painting or hand-woven rug. Large works of art can be the defining element of a small space, tying together a color scheme and creating a single focal point that anchors other items in the room. Wall sconces add ambience, illumination and functional style without eating up valuable floor space. They can be used to showcase the art and brighten enclosed spaces. 
Open things up with window treatments
Hanging drapes close to ceiling moldings trick the eye into thinking ceilings are higher. Floor-to-ceiling draperies also make windows appear taller and wider. The curtain fabrics you choose can also create an illusion of larger space. Fabrics with vertical patterns add height. Floor-to-ceiling sheer white curtains not only lengthen a room; they brighten it as well. You can also replace Venetian blinds with vertical blinds or shades to maintain window functionality. But if even long, flowing or vertically shaped window treatments make your small room feel too cramped, consider eliminating window treatments entirely. Open windows give the room a minimalist charm and maximize natural light. 
Shelving does the trick
Closet organization is a must for any size home, but particularly when you're searching for one-bedroom apartment decorating ideas. Create a shelving system for shoes, bags and folded sweaters in your closet beneath the hanging garments. You can even tuck a small, clean-lined bookshelf into the bottom of the closet to take advantage of vertical space. 
Paint walls white
Or any light, neutral color — ivory, beige, straw, a rich cream or light gray. It's a classic tip for a reason. Lighter colored walls add an airy lightness that makes any small room feel more spacious. Adding a contrasting color to the trim will bring vivid life to your small space. 
Add color with flowers
For design in small spaces, flowers work wonders. You can always change the colors and styles, but they add lively impact in vases, small planters and window boxes. For a touch of green, tuck a fiddle-leaf fig in the corner, or line up tiny pots of succulents on a windowsill. The fiddle-leaf fig will thrive in bright light and regular water, and the succulents require very little attention. 
Style with accessories
Your space should evolve with you, but it isn't always convenient or in the budget to buy new furniture. Make changes to fit your mood with pillows and accents. Mix and match colors and patterns to create a brand-new room feeling. 
Embrace the space you have
One-bedroom apartment decorating ideas like these will help optimize your use of space and have you feeling cozy and at home in no time. But remember, the hidden advantage of a one-bedroom senior apartment in a community like Freedom Village of Bradenton is that it's your gateway to a much larger living experience. Having a somewhat smaller kitchen is no problem when you also have a full dining services staff and multiple dining venues available to you. There's no need to clutter your home with fitness equipment of any kind when a fully equipped fitness center is just outside your door. Socializing with friends and meeting for meals is now easier than ever, with dedicated spaces and no preparation or cleanup needed from you.   
Enjoy all things great and small
We know that moving from the home you've lived in for years can be a big step. That's why we've designed our senior independent living community around the things that mean the most to you — freedom, independence, and ability to live the carefree, maintenance-free lifestyle you want. Our one-bedroom apartments make it easy. They offer as much as 1,050 square feet of living space and your own private balcony. You can probably find a floor plan that's perfect for you right now.For more information about our Life Plan Community, please contact our team!