Your Must-Have Memory Care Checklist for Memory Care Facility Tours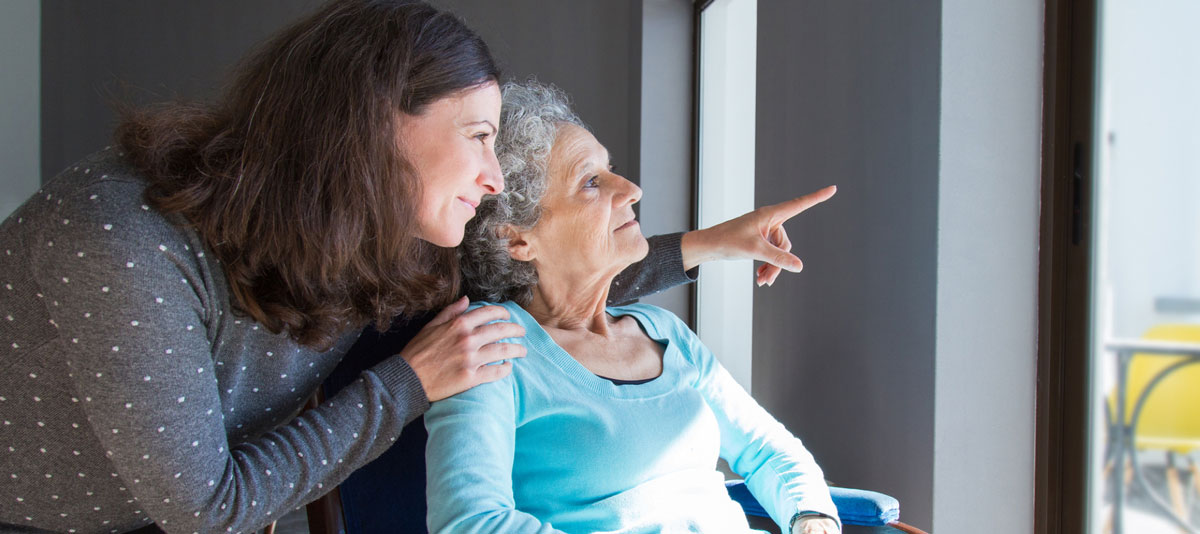 Choosing a Memory Care Community
What to look for and what to ask
Alzheimer's disease and other forms of dementia or memory loss are difficult for anyone to face — especially when it affects someone you love and care for. When you see signs that it's time for memory care, you'll want to select a place where your loved one will be well cared for by people who have the compassion and specialized training needed to help them find joy and purpose in each day. The right memory care community can make a significant difference in quality of life for people with dementia, so your choice is important.
Memory Care Checklist
To assist in your search, we've compiled a list of questions to ask when interviewing the memory care facilities you're considering. We encourage you to print this memory care checklist and take it with you when you visit.
Before you go: Consider your loved one's abilities and needs.
What activities of daily living do they need assistance with?
Do they have mobility issues or use a wheelchair or walker?
Are they demonstrating aggression or other behavior issues?
Do they have a chronic medical condition that will need special attention
or ongoing treatment?
Do they have a tendency to wander?
Do they need 24/7 supervision?
Care Planning and Coordination
What kind of assessment is conducted prior to admission?
Who is involved in the assessment?
What is your philosophy of care?
Is a personalized care plan developed for each resident?
What kinds of personal assistance are provided to residents?
What health care services are available on-site?
Is there a medical director on staff?
Is there a nurse on duty 24/7? If not, when is a nurse on duty?
Does a physician visit residents? If so, how often?
How and when are families updated?
Is the community equipped and staffed to handle all levels of dementia from
early to late stages?
Is there a program through which residents with early-stage memory loss
can start out in assisted living and then transition to memory care?
How and when are residents transitioned from memory care to skilled nursing?
What policies are in place for handling medical emergencies?
Does a staff member accompany a resident who is taken to the ER?
What is the discharge policy?
Staff Knowledge and Competency
What qualifications and credentials do memory care staff members have?
What kind of training does the staff receive and how often?
Are staff members kept up to date on the latest research and techniques for memory care?
What is the staff-to-resident during the day? At night?
Activity Programming and Amenities
What types of memory care activities are offered to residents?
Are activities tailored to each resident's interests and physical and cognitive abilities?
Are residents grouped according to their cognitive level?
Is there a special memory care dining program?
Are special diets accommodated?
What kinds of specialized therapy are offered? (Examples: Reminiscence therapy, pet therapy, music therapy)
Does the community offer Snoozelen rooms or other forms of light treatment?
Does the community have walking paths for residents?
Do residents have access to secure outdoor areas?
Behavior Management
Are staff members trained to handle aggression or other behavior issues?
How are such issues handled?
What is the community's policy on use of medication for behavior issues?
Physical Environment
Are rooms private or semiprivate?
What is the style of the environment? (e.g. memory care cottage, memory care neighborhoods)
Is the community easy to navigate?
Does the interior environment include visual cues or landmarks for wayfinding?
How are the buildings and grounds secured?
How often are housekeeping and laundry service provided?
Community Fees and Policies
What is the cost for memory care in the community?
Is the fee all-inclusive? If not, which services and amenities incur an additional fee?
If a resident must leave for a period of time — such as for short-term rehabilitation — will their room be held until they return?
General Observations
Observe staff members' interactions with residents. Are they caring and engaged with residents? Do they appear to be knowledgeable?
Does the community's philosophy and program of care resonate with you?
Do you feel safe and comfortable in the community?
While this list is extensive, you may have additional questions. The best memory care communities understand the importance of your decision and will give you all the information you need to make an informed decision. Ultimately, you should trust your instincts and choose the community you believe will best care for your loved one.
To learn more about our unique brand of person-centered memory care at Freedom Village at Bradenton, simply call 941-219-5294 to schedule a personal appointment. We'll be happy to show you around our community and answer all your questions. Be sure to bring your checklist!