Design Tips for Smaller Senior Living Apartments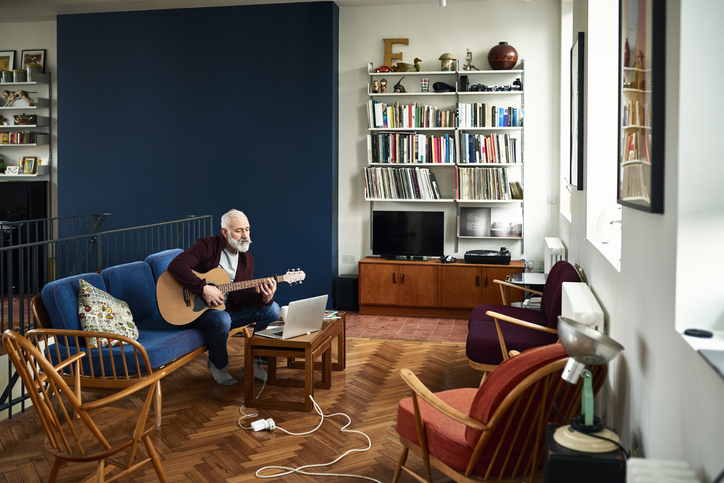 If you're planning to move to an independent living community, now's the perfect time to gather inspiration and ideas for decorating a senior apartment. You don't have to sacrifice style when you're downsizing to a smaller apartment. With the right moves, you can create a beautiful, comfortable and stylish space that feels like home. You might decide to incorporate elements from your current home décor or create something entirely new and different. 
There's a lot to gain by moving to a smaller living space, and you may be surprised by the comfort and convenience of a one-bedroom apartment that's designed to make the most of every square foot. A senior apartment doesn't feel small when you have an expanded lifestyle, including access to a host of amenities and activities, within a senior living community.
Ready to start decorating? Here are some small-space design tips for a stylish senior apartment:
Rightsize Your Furniture
Big, bulky furniture pieces can make a smaller space feel cramped, and the steps involved in moving and arranging oversized furniture can also be a burden. With a rightsized approach to furnishing a smaller apartment, you have the freedom to create a new look you'll love with smaller furniture pieces that work well together. You might opt for a loveseat version of a sofa or a side table instead of a large coffee table, and save space with a compact kitchen table or table with a hidden leaf extension. 
Define Living Areas
If you're used to spending time in multiple rooms at your current home, creating some defined living spaces can make a smaller one-bedroom apartment or studio feel like more home. You can place rugs or furniture strategically to create separation between the entryway, kitchen and living room. Having defined living spaces helps maximize function while providing visual separation between each area of living in your apartment. 
Make a Statement
Choose a piece of artwork or another defining element to be the focal point of your new space. Your centerpiece could be a large painting, decorative mirror or textured wall hanging. Arrange furniture and décor to complement your centerpiece and create style and balance in your new space, and use it to inspire a color scheme and tie in other items in the room.
Brighten Up the Room
Create an open and airy vibe in your apartment with window coverings that make it easy to let in natural light. Add functional lighting with lamps where needed, and bring in style with wall sconces, string lights, and under-cabinet lighting. At Freedom Village of Bradenton, our independent living apartment residences feature bright and sunny interiors and large windows that brighten up your living space.
Use Space-Saving Storage Options
A few smart and stylish storage solutions can help you reduce clutter and stay organized in a one-bedroom senior apartment. Look for furniture options with hidden storage in ottomans and benches. Decorative bins or baskets provide a great way to keep everyday essentials accessible but out of sight, and closet organizing systems make it easy to fit more items in your closets. 
Think Vertically
Maximize the vertical space in your apartment by using the height of a room for practical purposes and visual appeal. For example, hanging curtains and artwork a few inches higher can draw the eye upward and make a space feel larger. A well-placed mirror on the wall reflects light deep into a room and also gives the room a more open feel.
Put Corners to Work
Think creatively to maximize every square foot of space and take advantage of every corner in your new apartment. The corner of a living room is a great place for a cozy reading nook or an office space with a corner desk. You could also install floating shelves in a corner to showcase your favorite photo frames, decorations and family mementos. 
Visualize All the Possibilities
Take measurements of the furniture you plan to bring or buy, then mark up a floor plan of each room showing where the furniture should go. Doing so can help you visualize the space and bring your design ideas to life. Keep a running list of your favorite design ideas for smaller spaces, including pictures of interior designs you love. 
Find the Right Floor Plan
Ready to explore options for one-bedroom senior living apartments with the right features for you? With walk-in closets and an open concept layout that opens to a patio or balcony, there's a lot to love about our independent living apartments at Freedom Village of Bradenton. Choose from a range of studio, one- and two-bedroom apartments with comfortable layouts and beautiful finishes. Plus, you'll enjoy all the perks of independent living, including an abundance of amenities and activities to fill your days.
We're here to help you find a living space that perfectly matches your needs. View our independent living floor plans and contact us to schedule a tour. You'll see how a well-designed floor plan can maximize your living space and elevate your lifestyle at Freedom Village of Bradenton.