Post-Hospital Care: Recovering at Home vs. in Senior Rehabilitation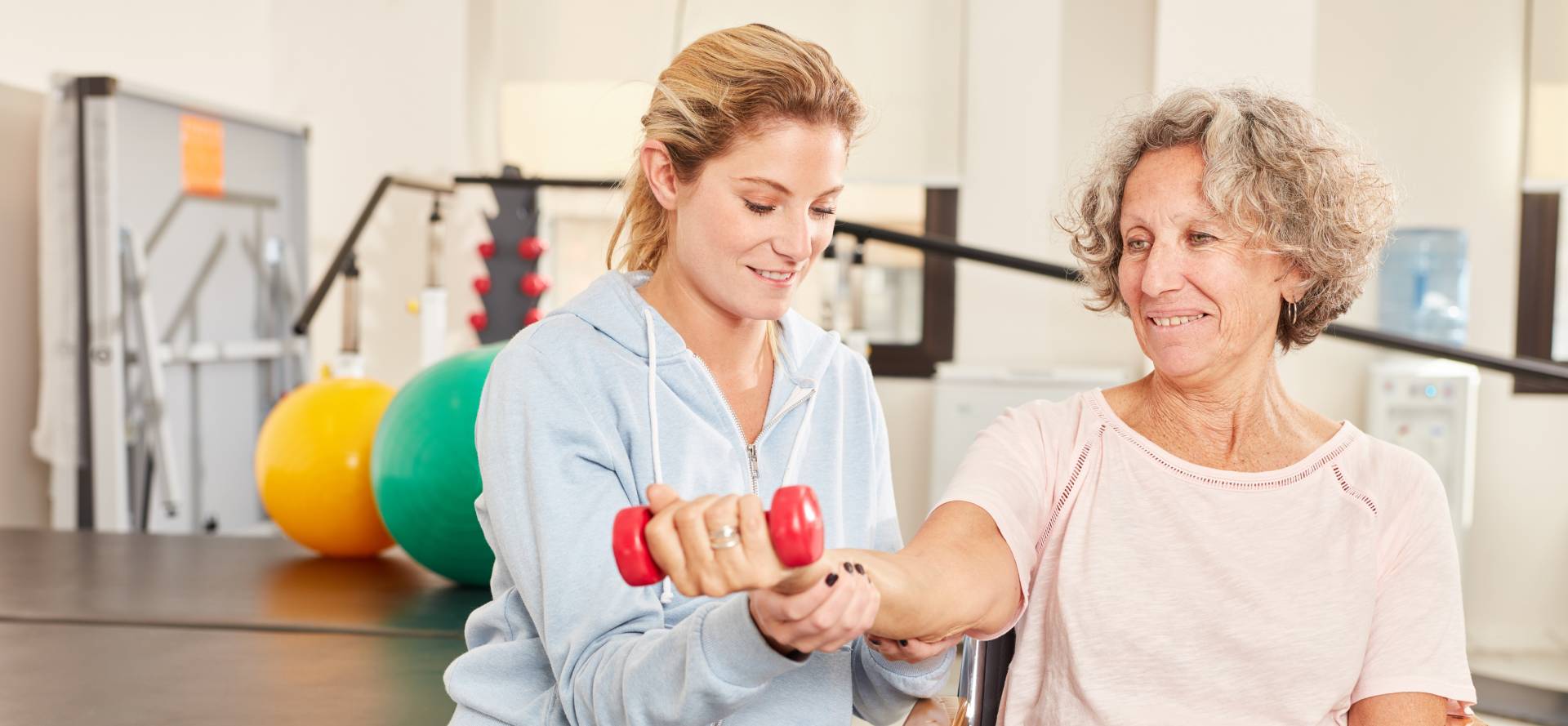 If your loved one is hospitalized after surgery or treatment for a serious illness or injury, the decisions about medical care don't stop when they're discharged from the hospital. Families are faced with decisions about where their loved one will go for post-hospital care and recovery, and whether they can recover at home or in a community setting where short-term rehabilitation services are provided on-site. 
The Key to a Quick Recovery
Short-term rehabilitation services help reduce pain and improve function so your loved one can rebuild strength and abilities, and get back to living as independently as possible. The following services are typically offered in a senior rehabilitation center:
Physical therapy

can help improve mobility, build strength and improve balance.

Occupational therapy

is tailored to help each person perform activities of daily living and learn to use adaptive equipment, if needed.

Speech therapy

can help with conditions affecting communication, swallowing, cognitive skills and memory loss. 
When it's time for hospital discharge planning, you want to be confident that your loved one has the support they need for post-hospital care. The length of time needed to recover varies for every person and situation. Whether your loved one's recovery may last a few weeks or several months, learning about the options for rehabilitation can help support your decision-making process — and ultimately help your loved one have a successful recovery in a safe environment.
At-Home Recovery Options
At-home recovery may be a good option for those who are able to move around the home safely and handle everyday tasks independently, or with a little extra help from family and friends. In some cases, you may realize after returning to the home environment that your loved one needs more help than originally anticipated. That's why it's important to follow the advice of the doctors and also follow your own instincts when assessing how well your loved one will be able to navigate their recovery at home.
When planning for at-home recovery, you may need to coordinate physical, occupational and/or speech therapy appointments for your loved one. You may also need to bring in home health care providers to help with medication management and activities of daily living. If family members plan to provide care at home, keep in mind the costs associated with taking time away from their work and family life.
Short-Term Rehabilitation
Senior rehabilitation centers provide therapy and services designed to help with recovery after an illness or medical event. Let's explore some more of the benefits of a short-term rehabilitation stay in a senior living community: 
Time to focus on your recovery.

Staying in a

rehabilitation cente

r allows your loved one to focus on their recovery without the burdens or distractions of being at home. Everything is taken care of so they can put their energy toward making progress for a smooth transition back home. 

A treatment plan for recovery.

Your loved one's care plan will be coordinated by a team of doctors, nurses, and rehabilitation therapists to make sure all their needs are met.  

Convenient access to rehabilitation therapy.

A short-term rehabilitation stay provides the opportunity to recover in a safe setting with regularly scheduled sessions for physical, occupational and/or speech therapies. Without the hassle of traveling for therapy appointments, your loved one can maximize their time in therapy without missing any appointments. 

Some costs possibly covered by Medicare.

A

short-term rehabilitation stay

may be covered by Medicare if certain criteria are met, including having spent at least three nights as an inpatient in a hospital within the last 30 days. In some cases, Medicare may cover a short-term rehabilitation stay up to 100 days if deemed necessary. You'll meet with a care coordinator who can walk through the costs. 

Peace of mind for family.

Knowing your loved one is safe and well cared for can reduce stress and relieve the burden of caregiving for family and friends.
Care You Can Count On 
At Freedom Village of Bradenton, our senior rehabilitation services are provided in a welcoming residential setting with all the comforts of home. A rehabilitation stay with us can help your loved one achieve their recovery goals faster, so they can get back to the activities they love as soon as possible.
Contact us to learn more about short-term rehabilitation services at Freedom Village of Bradenton.