How Is Skilled Nursing at a Life Plan Community Different Than a Nursing Home?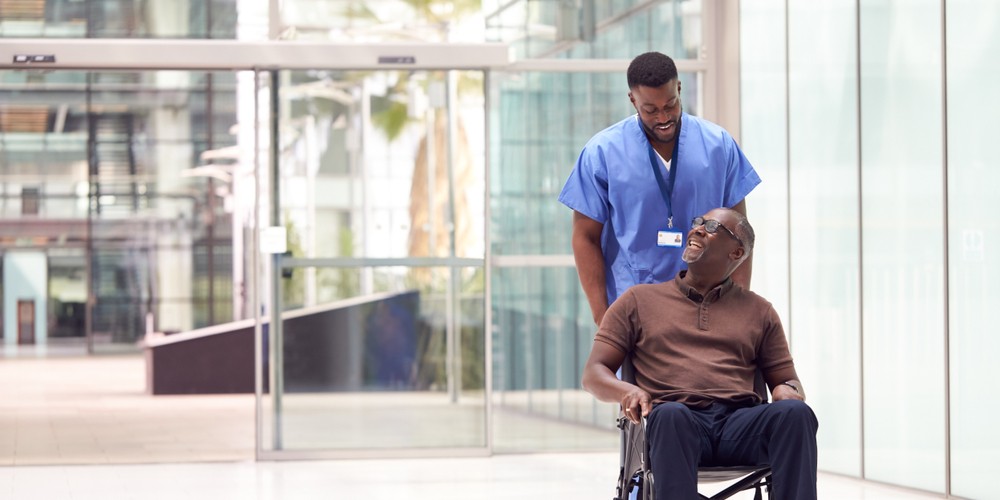 When you're looking for skilled nursing care for a loved one, having a clear understanding of the options can help you make the right choice. Skilled nursing care is provided in several different settings, including  hospital wings, free-standing nursing homes, and Life Plan Communities (also known as continuing care retirement communities or CCRCs). However, it's important to know they're not all the same, and the experience you'll have with skilled nursing in a Life Plan Community versus a nursing home is very different.
Here, we explore the differences between skilled nursing care in a Life Plan Community and a nursing home, and what to expect with each type of care. 
Skilled Nursing Care in a Life Plan Community
Skilled nursing care is offered by Life Plan Communities to provide short- and long-term care for those who need continuous care for medical needs and significant help with activities of daily living. This level of care may be needed for a short time after a hospital stay for rehabilitation, or for the long term in cases when a person's chronic illness or disability requires the specialized care of skilled nursing. The goal of short-term skilled nursing care is to work toward recovery and regaining the ability to perform daily tasks, so the person may be able to return to an assisted living or independent living setting.
Complexity of care: Skilled nursing facilities within a Life Plan Community employ trained medical staff licensed to offer care, including wound care, IV therapy, medication injection, and close monitoring of chronic health conditions. In addition, rehabilitative care is provided to help patients recover after an injury, illness or surgery. Specialized care plans may be developed for Parkinson's care and stroke recovery. 
Medical team: An attending physician or nurse practitioner oversees the care of each patient in a skilled nursing area, with care delivered by a team of medical providers including medical directors; registered nurses (RNs); licensed practical nurses (LPNs); certified nursing assistants (CNAs); licensed social workers; registered dietitians; and licensed physical, occupational and speech therapists. 
Nursing Home Care
A nursing home, also known as a long-term care center or extended care facility, provides long-term residential care for older adults who are no longer able to live independently. The focus of care is to provide assistance with dressing, grooming, bathing, meal preparation and other daily tasks. Residents of a nursing home may reside in a private or semiprivate suite with a nurse's station nearby. 
Complexity of care: Nursing home care is intended for those who need extensive help with activities of daily living and general care such as medication management, catheter care, administration of oxygen and monitoring of health conditions. Some nursing homes have special areas for those who need more complex medical care.
Medical team: Nursing homes are professionally staffed by nurses, nurse's aides, social workers and dietitians. CNAs provide much of the care with oversight from an RN or LPN. 
Benefits of Skilled Nursing in a Life Plan Community
If a doctor determines your loved one would benefit from skilled nursing care, you want to find a place where they'll have everything they need to recover and regain as much independence as possible. Choosing a Life Plan Community for skilled nursing care ensures access to a high level of care in a supportive environment where they'll have opportunities to engage socially and thrive.
Here's why you should consider skilled nursing in a Life Plan Community:
Skilled nursing facilities

within

Life Plan Communities

are able to provide care for residents with medically complex conditions.

Your skilled nursing team in a

Life Plan Community

will get to know your loved one and develop a personalized care plan for their medical needs.

Skilled nursing care is overseen by an attending physician or nurse practitioner, with 24-hour nursing care provided by licensed nursing staff.

Life Plan Communities

offer a full continuum of care, making it easy to transition to other

levels of care

on the same campus, if needed.

Life Plan Communities

have a warm and inviting environment that feels more like home than a hospital stay.

Skilled nursing care

may be covered in part by Medicare for up to 100 days, if eligibility requirements are met. Learn more about

Medicare coverage for skilled nursing facility care

.
Why Choose Freedom Village of Bradenton?
Our long-term care, including skilled nursing, at Freedom Village of Bradenton provides peace of mind when you need it most. You can trust that your loved one will be cared for in a supportive environment, with every comfort and convenience at their fingertips. In addition to 24-hour skilled nursing care, we offer a variety of services and amenities, including daily housekeeping and laundry; chef-prepared meals with dietary options; daily activities in music, art and technology; and so much more. Contact us to learn more about skilled nursing care in our Life Plan Community.