How to Know if Memory Care Is Right for Your Loved One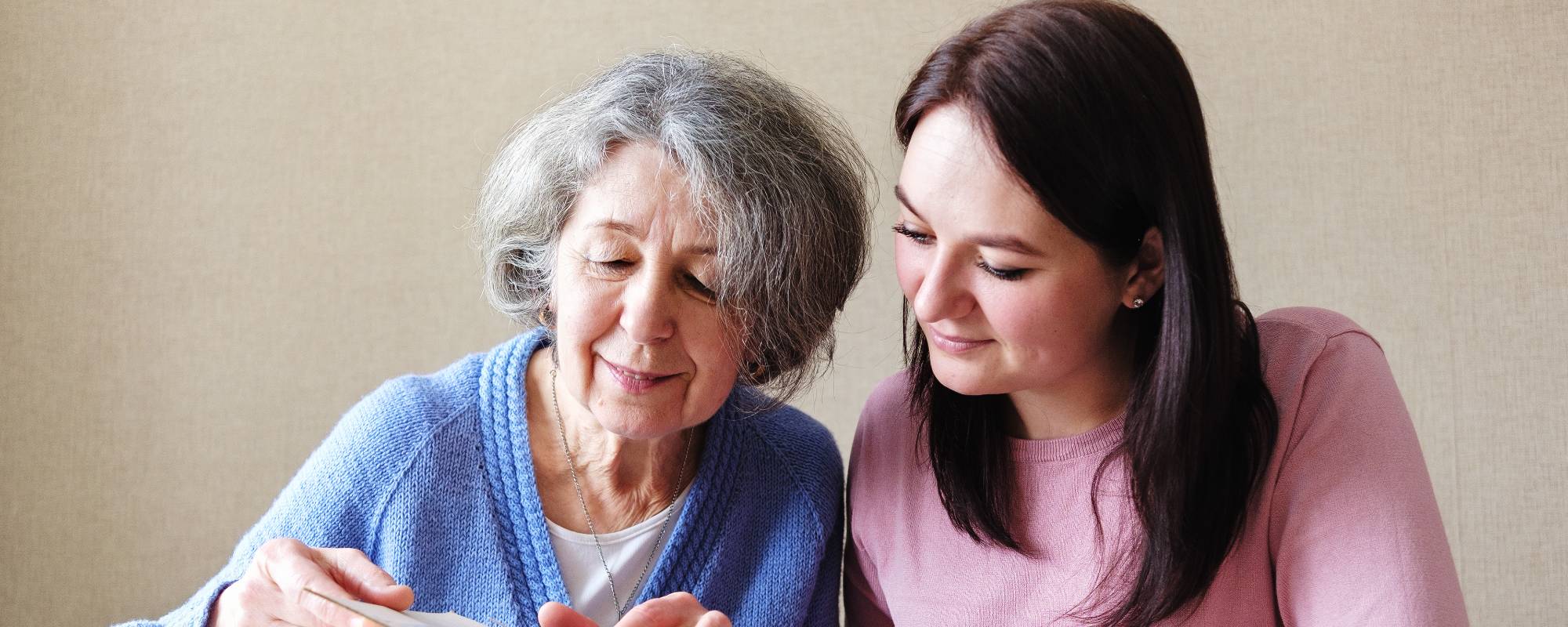 As your loved one with Alzheimer's or another form of dementia needs more care at home, you might find each day more challenging than the last. While these changes are difficult for everyone, memory care communities can give both you and your loved one the support you need to maintain your bond — but when is the right time for a higher level of care?
Ask yourself these 6 questions about caring for your loved one at home, and learn if memory care is right for your family member.
1. Are They Agitated or Aggressive?
For several reasons, agitation  and aggression are common with seniors who have dementia. The two primary reasons are confusion and the inability to articulate or identify the cause of physical discomfort.
For instance, an older adult who used to perform an activity of daily living unassisted may lash out at their caregivers when they can't remember the steps it takes to complete the task. Or a person experiencing discomfort from something like a urinary tract infection may express it through physical aggression.
In the Memory Care neighborhood at Freedom Village of Bradenton, our staff can redirect aggressive behavior with specialized care that reduces frustration, fear and anxiety in your loved one, which gives you the opportunity to return to the loving relationship you once shared.
2. Does Your Family Member Have Safe Living Conditions?
When a senior with dementia is aging in place, they may neglect essential household duties like taking out the trash, cleaning up after a pet, or disposing of spoiled food. Some seniors may also hoard items or wander their neighborhoods.
Other risks may include trip hazards, medical fall risks, kitchen appliances, firearms, or household chemicals. For your loved one to age safely at home, you'll need significant and expensive safety modifications. 
The 24/7 security and  care in a Memory Care neighborhood provides a secure environment where your loved one can thrive. At Freedom Village of Bradenton, we take memory care a step further by including a maintenance-free residence, housekeeping and personal laundry services, and Life Safety pendant alert systems.
3. Is Your Family Member Feeling Socially Isolated?
While loneliness and social isolation are related, they're a little different. Loneliness is the distressed feeling of being alone, whereas isolation is the lack of social connections to provide regular, positive interaction with people and your environment. 
Social isolation can lead to:
Anxiety

Depression

High-blood pressure

Heart disease

Lack of energy
Feeling isolated is a common problem for seniors living with dementia. It's difficult to recreate social situations at home, or your loved one may lack the confidence to take part in group activities.
Retirement communities have amenities, services, and a calendar full of events just for memory care residents. From a supportive dining environment to welcoming and secure places to gather, your loved one always stays engaged and socializes with their neighbors and care team. 
4. Has Your Family Member's Sleep Pattern Changed?
As we age, our bodies produce less melatonin, which is a sleep hormone that helps us get tired when it gets darker in the evening. Research has shown that as a person's dementia progresses, melatonin production is particularly impaired. 
Combined with side effects from medication and other long-term health conditions, like diabetes or high blog pressure, sleep can be difficult for older adults with dementia.
Your loved one may have difficulty getting to sleep, wake up several times during the night, sleep less deeply or sleep less overall.
Poor sleep patterns can lead to waking up at night, resulting in your family member being anxious or confused over what time it is. Instead of going back to sleep, they believe it's time to begin the day. Your loved one may try to return to an old routine, like making breakfast or getting dressed for work.
This is very stressful for family caregivers, especially if you're worried your loved one may do something that is unsafe, like wander, which can lead to a life-threatening fall. 
5. Are They Neglecting Personal Care?
Neglecting self-care is a major indicator your loved one needs extra help with activities of daily living. If your family member once wore clean, pressed clothes or was always clean-shaven, and is now wearing ill-fitting, dirty clothes or has unkempt facial hair, it might be time to consider memory support services. 
It's important to remember physical symptoms of dementia come in many forms. Here are other signs your loved one might need a higher level of care in a Memory Care neighborhood:
Dramatic weight loss or weight gain

Forgetting to eat or take medications

Loss of mobility

Neglecting regular baths or showers
At our retirement community in Bradenton, FL, we believe each one of our residents should live according to a personalized routine that reflects their preferences and choices. We offer flexible care in a dementia-friendly environment that promotes a self-directed lifestyle. 
For instance, the residents in our Memory Care neighborhood have access to appropriate community amenities like the salon and barbershop, fitness center and pool. We also offer compassionate, personalized help with daily living activities, including dressing, bathing and medication management. 
6. Do You Have Caregiver Burnout?
Taking care of a loved one with Alzheimer's or another form of dementia is arduous work, and many family caregivers face burnout. You might dedicate too much time to your family member with dementia and neglect other important areas of life like work, friends, and other members of your family who need attention.
Many family caregivers have to take time off work, which may be paid or unpaid, while some have to reduce their work hours altogether. This can lead to feelings of resentment, depression and isolation.
Watch for these other common signs of caregiver burnout:
Difficulty sleeping

Drinking, smoking or eating more

Feeling tired and run down

Feeling helpless and hopeless

Neglecting personal  needs

Trouble concentrating or relaxing, even when help is available
If you're a family caregiver struggling with the emotional and physical exhaustion that comes with providing someone with dementia a high quality of life, it's likely time for expert memory care services at a retirement community. Be sure to refer to our suggested memory care checklist when taking next steps. 
Learn More About the Benefits of Memory Care at Freedom Village of Bradenton
Choosing the right care for your loved one with dementia is a tough decision. At our retirement community in Bradenton, FL, we're here to provide any and all information we can to help you make the best decision for your situation.To learn how your family member can be supported in our Memory Care neighborhood at Freedom Village of Bradenton, contact our senior living representatives online, and we'll be happy to answer your questions!