2023 Holiday Gift Guide for Seniors with Dementia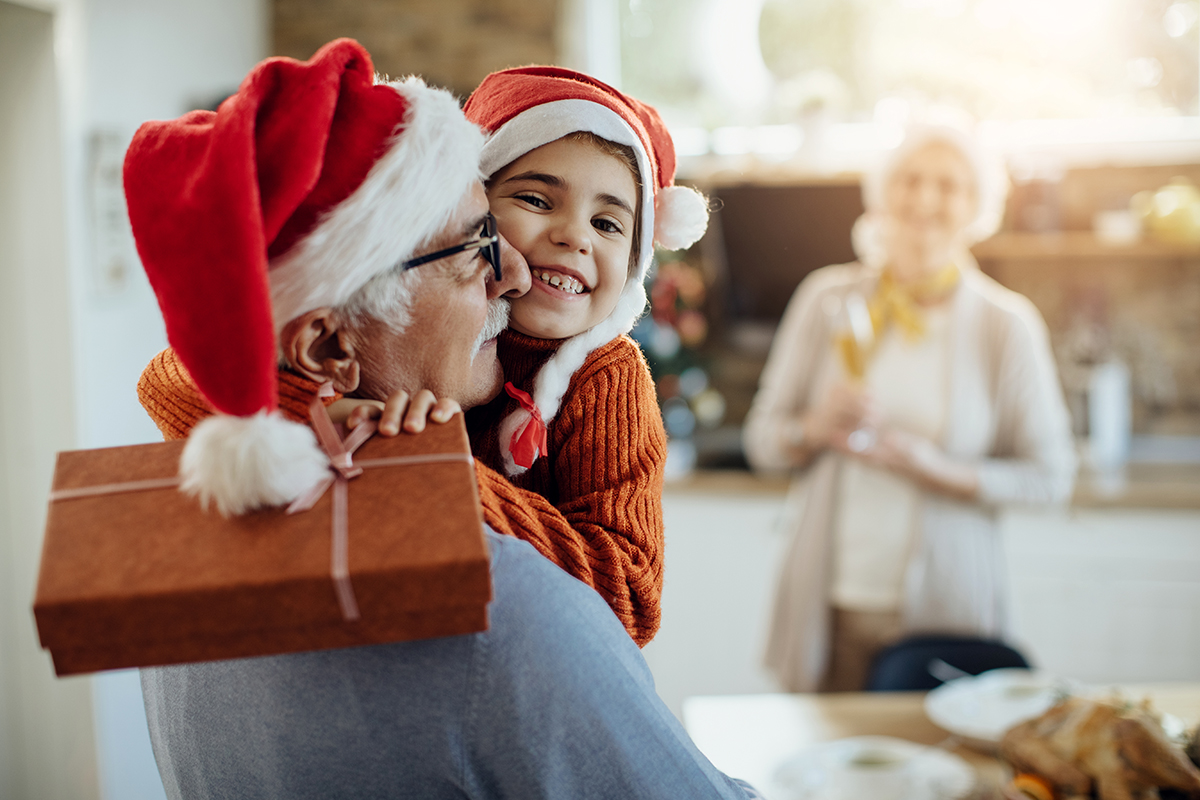 While dementia is a progressive condition, in the early stages your loved one can still be relatively independent, social, and have good communication skills, so most gifts are a good fit for them. In the middle to later stages of dementia, simple holiday gifts are recommended, those that provide sensory stimulation, opportunity for success, and foster pleasant memories and feelings.
Christmas Gift Ideas for Those with Dementia
Puzzles and games. They not only initiate social interaction but also boost cognitive thinking. Suggestions include:
PICLINK is a multi-game set of 36 tiles that includes photos of different categories like people, structures, transportation, food and more.
Jigsaw puzzles are an entertaining and easy activity to enjoy together.
Board games can help improve your loved one's dexterity, hand-eye coordination, and mental strength. Try games that use brightly colored and identifiable cards and pieces, like Uno or checkers. You may have to simplify rules or even play without rules – it's the social interaction that matters.
Fidget toys. These specially designed therapeutic tools can provide comfort and calming sensations for your loved one, by providing tactile stimulation moments of accomplishment. Ideas include:
Sensory gifts. Aromatherapy can provide quick relief from overstimulation or agitation.
An essential oil diffuser is a great gift to start incorporating aromatherapy into your loved one's life. Add a few drops of lavender or peppermint to create a soothing atmosphere.
Scent and soap gifts are a great way to provide positive sensory stimulation. For instance, if your loved one likes the smell of lavender, choose a lavender-scented hand soap, lotion, potpourri or scented oil to foster a calming mood and make them feel special.
Assistive gadgets. These gift ideas help simplify everyday life or make tasks easier. Suggestions include:
A memory picture phone is a working 10-button, corded phone. Each button holds a photo of a family member or friend for effortless, one-touch dialing. It's also hearing-aid compatible.
Lumin One Touch is a tablet designed for older adults. It allows your loved one to make one-touch phone and video calls, share photos and enjoy fun apps. It also comes with a clock and calendar app for medication or appointment reminders.
Reminder day clocks have a large, easy-to-read screen that lists the day of the week, time of day, month and year.
Music and video favorites. Music can be a powerful source of joy and comfort for people with dementia. Another great option is a DVD of the person's favorite movie or TV show. Ideas include:
Apple Music, Netflix, Spotify or Google Play gift cards to help pay for a subscription or digital purchases.
Amazon Echo is a voice-activated device that gives your loved one access to music as well as news and weather.
Music therapy teddy bear is a plush, stuffed bear with an MP3 player so you can download your loved one's favorite music.
NOTE: When creating playlists, focus on music that was popular when your loved one was 15–25 years old – a period when a lot of important life memories were being formed.
Books. While the ability to absorb complex plotlines or focus for long stretches decreases with memory loss, pleasure is still found in reading. Some specialized titles include:
General gift ideas
Aquapaint is an innovative take on watercolor painting that allows your loved one to create a beautiful picture by simply brushing the 'white' sheet with water. As the water slowly evaporates, the image dissolves, leaving a clean slate that's ready to be used all over again.
Scrapbook and photo albums are a great way to preserve memories and can spark conversations.
Comfy clothes can help people living with dementia who struggle with getting dressed. Look for items that are easy to put on like cardigan sweaters with large zippers, pants with an elastic waist, and slip-on shoes.
A weighted blanket can provide comforting pressure that lessens agitation or stress.
Therapy robo-pets can have a calming, soothing effect and bring your loved one back to a time in their life when they were responsible for taking care of someone else.
Give the Gift of Safety, Care and Respect
At Freedom Village Bradenton, we offer an innovative approach called Heartfelt CONNECTIONS – A Memory Care Program®. This nationally recognized program celebrates each resident's remaining abilities, rather than focusing on what has been lost. Through person-centered, activity-based interaction, residents of our community find fulfillment and feel their inherent value.
To learn more about our community, or to discuss when it's time to consider memory care for a loved one, use our Community Assistant chat feature or contact us here.